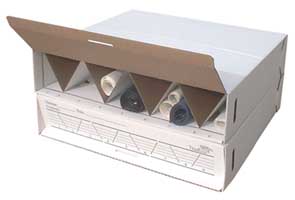 AOS Truss File Rolled Drawing Organizer, Pack of 2
$83.00

Stackable Storage & Organization of Rolled Drawings

"Trussed Interior" for exceptional stacking strength
Modular design for easy relocation in office or permanent storage.
End access for easy retrieval.
Labeled integral end flap for easy identification and organization.
Attractive corrugated cardboard with deep grey lettering on white background.
7 Large and 2 Small Triangular Compartments per unit (2 units/Pkg -- 18 Compartments total).
Large compartments store up to a 4" roll or a multiple of smaller rolls.
Small compartment stores up to a 2.5" roll or a multiple of smaller rolls.
Single unit can be used vertically.