NATIONWIDE
DRAFTING.COM


SCHOOL


Drafting Tables & Furniture


Student Supplies


Training Tables & Chairs

---
DRAFTING & ART

Art & Drafting Tables

Art Projectors

Art Supplies

Board Cover

Chairs

Computer Furniture

Construction Calculators

Cutting Mat

Drafting Kits

Drafting Machines

Drafting Tables

Easels

Filing & Storage

Flat Files

Foam Board

Hanging Files

Hobby & Craft Tables

Lamps

Land/Planning Model Kit

Light Tables & Boxes

Mayline Products

Paper, Vellum, Mylar, Film, Tape

Paper Cutters & Trimmers


Parallel Rules & Straightedges


Pens & Pencils


Plan Measures

Portfolio & Presentation

Roll Files

Rules & Scales

Stools

Table Trays & Ledges


Taboret


Tubes (Mailing & Storage)

---
PLOTTER MEDIA


Inkjet Media

---
XEROGRAPHIC


Media and Supplies

---

Site Map





Table Trays and Pencil Ledges
---

Alvin Metal Pencil Ledges
28" metal pencil ledge (#MPL28) $11.98


44" metal pencil ledge (#MPL44) $16.98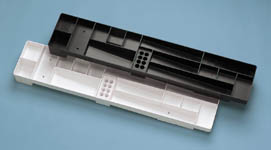 Drawing Table Caddy $21.99 TT-599


Caddy helps keep the drawing table organized. Special compartments for technical pens, rulers, pens, markers and other everyday small drawing accessories. Keeps everything handy and within reach at your drafting table. Attaches easily to any top which accepts wood screws. Dimensions: 31-1/2" long x 7" wide.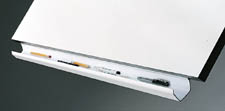 Plastic Instrument Tray - Discontinued


White high-impact plastic. Mounts easily to drawing board to keep tools and instruments reaily available.