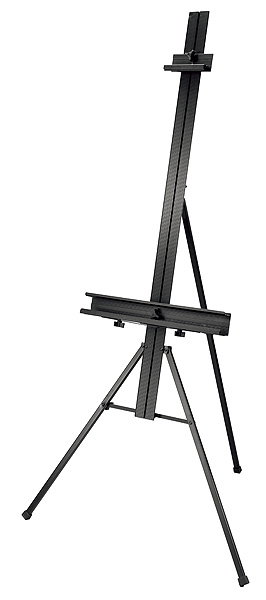 Alvin Aluminum Art & Display Easel
$74.98
HAE590

Sturdy aluminum easel is ideal for studio or display use. It stands 68" tall and 36" wide at floor, and holds canvases up to 48" high and 1-1/2" thick. Adjustable top and bottom brackets hold artwork at any height position, and an adjustable back leg allows working angle positioning from 60 to 90 degrees. The 21" long two-tier canvas shelf features a built-in panel slot and ledge to hold brushes or markers. Two swing-out arms conveniently hold palette, brush basin, and other items within arm's reach.

Non-skid rubber feet provide a firm grip on all surfaces.

Folds to 53" x 6" x 6" for compact storage.