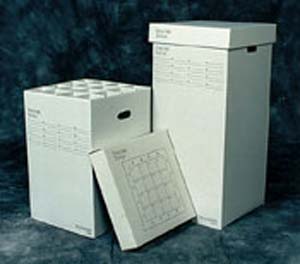 AOS Manager Rolled Storage
$68.98

Advanced Organizing Systems' economical solution to organizing plans in office or permanent storage. Sturdy, stackable, attractive corrugated cardboard with reinforced bottom. Gray lettering on white background. Side handles with identification labels on interior and exterior. Partitions for 16 slots at 4" x 4", or partitions can be removed to create slots of 4" x 8" or 8" x 8".
The MGR-37-9 has 9 slots at 5 1/4" x 5 1/4".