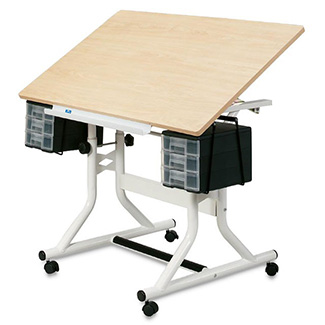 Alvin CraftMaster Hobby Station
$199.98
CM40-4-WB

The ultimate in function, utility and convenience for the hobbyist or artist, the CraftMaster Hobby Station has been designed from the bottom up to meet your creative needs.

Outstanding features include:

* 24" x 40" woodgrain Melamine top with rounded corners for safety. Also available with a white top at no additional charge. Please specify when ordering.
* One-hand tilt-angle mechanism adjusts tabletop from 0 to 30 degrees.
* Height adjusts 28" to 32" in the horizontal position using casters (included).
* Height adjusts 26" to 30" in the horizontal position using floor glides (included).
* Two sets of 3-drawer storage units. 7"w x 7"h x 10" deep.
* Metal pencil ledge and plastic instrument tray both included. Use either one.
* Sturdy tubular steel construction, 1-1/2" dia. with white powder-coated finish.
* Supplied with locking casters and non-slip floor glides. Use either set.
* Footrest crossbar with rubber tread and 21" of leg room for your creative comfort.
* Table top and base packed securely in one UPS-able carton.
* From Alvin.

* Free Freight applies to shipments in the continental U.S. only, and does not include shipments to Alaska and Hawaii.