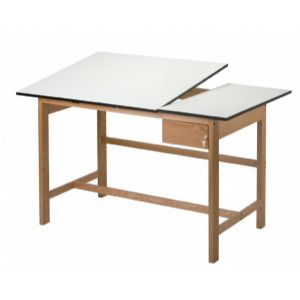 Alvin Titan II Split-Top Oak Drafting Table
$559.98
WSB60

Attractive, functional and durable, the 4-post Titan II drafting table from Alvin is designed for larger top sizes and constructed from the finest quality solid red oak using through-bolt hardware to ensure a lifetime of use.

The natural oak finish is well protected by two coats of clear lacquer while the warp-free tabletops have long-lasting white melamine laminate. Tilt mechanism enables user to easily adjust the top angle from 0 to 45 degrees. Split-top model is ideal for drawing on one side and keeping your laptop, tools and drink on the other.


* Key features include:
* Limited lifetime warranty.
* Finest quality solid red oak with clear lacquer finish.
* Angle adjustment from 0 to 45 degrees.
* 36" height.
* Tiltable 37.5" x 42" section and 37.5" x 18" fixed section.
* Total surface is 37.5" x 60".
* 23"L x 8"W x 3.5"D Tool Drawer. Smooth roller bearing slides and key lock.