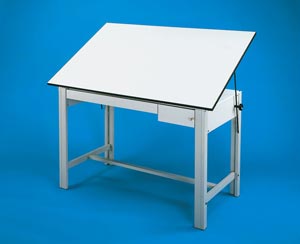 Alvin DesignMaster 4-Post Steel Drawing Table
$643.98

37.5" x 60" Tabletop! Tool and Reference Drawers included!

Compared to any other drawing table on the market, this is without a doubt, a table of superior strength and durability with a lifetime guarantee. The DesignMaster is made of 18 gauge steel tubing (not pre-fab sheet steel) and table height is 37" that can adjust from 0 to 45 degrees. The legs are welded together to form a 3" x 2" post for maximum strength, stability and rigidity. All metal parts are scratch resistant, electro-static powder coated. Table top board and supporting panels are made of 3/4" therma-fuse Melamine. Table top board size is 371/2"w x 60"l x 3/4" thick. Surface is smooth, durable white matte Melamine, trimmed with bonded black vinyl edges. The table is offered with tool and reference drawers. Tool drawer size is 23"l x 8"w x 31/2"d and reference drawer size is 23"l x 31"w x 11/2"d. Tool drawer is supplied with lock and equipped with ball-bearing slides.