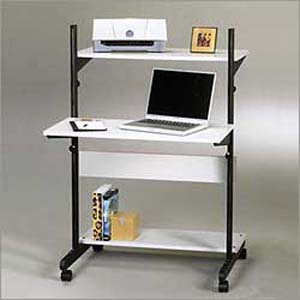 MAYLINE SOHO Adjustable Computer Table
$199.00
6432SO

* A great, affordable, ergonomic station.
* Four shelves adjust to an infinite amount of locations between 14 and 48 inches for use sitting or standing.
* Quantity of 4, 2-inch casters provided (two locking).
* Easily reconfigures for other family members or office partners.
* All shelves support 100 lbs.
* Dimensions: 32"w x 31"d x 48"h, including four shelves.
* Surfaces are either Oak or Dove Gray.
* All frames painted black.