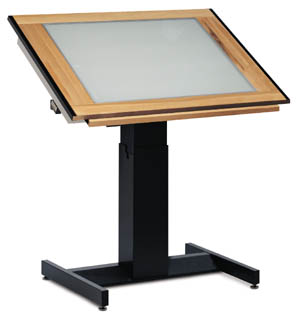 MAYLINE Future-Matic Light Table, 37.5" x 48" Top #8694BLT
$4,698.00
8694BLT

With electric height adjustment from 30" to 48". Plus manual tilt adjustment. The features of this exceptional table include:

* Self-contained light box with translucent 1/8" acrylic diffuser, 1/4" clear glass, and hardwood frame with Naturalist finish.
* Dimming control range of 0 to 325 foot candles, with solid date full range dimming control.
* With straight painted black legs only.
* 37.5" x 48" table features 30" x 36" lightbox illuminated by four 30W Tubes (supplied); 37.5" x 60" table features 30" x 48" light box illuminated by four 40W Tubes (supplied).
* All Tubes must be cool white rapid-start only.