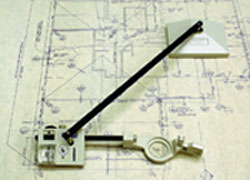 PLANCOM Basic Mechanical Planimeter
$265.00
PL10

For evaluating plane areas of any shape or contour from maps, blueprints, photos, etc., this economical, rugged and easy-to-use planimeter is one of the most precise instruments of its type. Features include: a lens tracer, built-in vernier magnifier for measuring wheel, zero setting wheel, pole weight, fixed pole arms, fixed tracer arm, and an exclusive tilted body design that permits convenient operation without bending over the instrument during tracing or readout. Packed in a 12" x 6" x 2" carrying case with test rule and complete instructions. From Plancom.

Available in English or metric calibration.