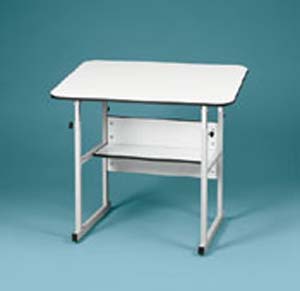 Alvin Minimaster Drafting Table
$125.98
MM36-5

A smaller version of the ever-popular Alvin Workmaster Jr. drafting table series, this sturdy, 4-post steel table is designed for children and adults alike.

Perfect for arts & crafts, hobby, and all kinds of creative work in the home, dorm room, studio or office. Built tough to provide years of service, the MiniMaster drafting table comes complete with a 24" x 36" white Melamine top that features rounded corners for comfort and safety. With a gray base. Other outstanding drafting table features include:
* Sturdy steel tube construction, 1" square.
* Durable powder-coated gray finish.
* Height adjusts from 27" to 40" in the horizontal position.
* Board angle adjusts from 0 to 30 degrees.
* Built-in storage shelf 9" x 24" with back panel.
* Adjustable floor glides for stability.