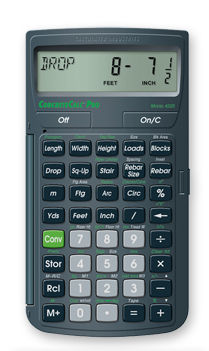 CALCULATED INDUSTRIES ConcreteCalc Pro
$60.98
4225

An Advanced Yard-Feet-Inch-Fraction Concrete Construction-Math Calculator for Concrete, Masonry and Paving Professionals. The easy-to-use ConcreteCalc Pro helps reduce material waste, improve design accuracy and cut estimating time. Increase efficiency in the field or in the office with fast, accurate solutions for Square-ups, Loads, Area, Volume, Rebar, Drop, Stairs and much more. From Calculated Industries.

It helps you:
* Work in Yards, Feet-Inch-Fractions
* Calculate Area, Volume and Weight per Volume
* Automatic Square-ups and Drops
* Rebar solutions for total Linear Feet and Weight per size
* Complete Stair Layouts; set Riser Height and Tread Width
* Equal Sided Polygons
* Circular Solutions: Circumference, Arc, Cone, Column and More!